What are Invisible Braces or Clear Aligners?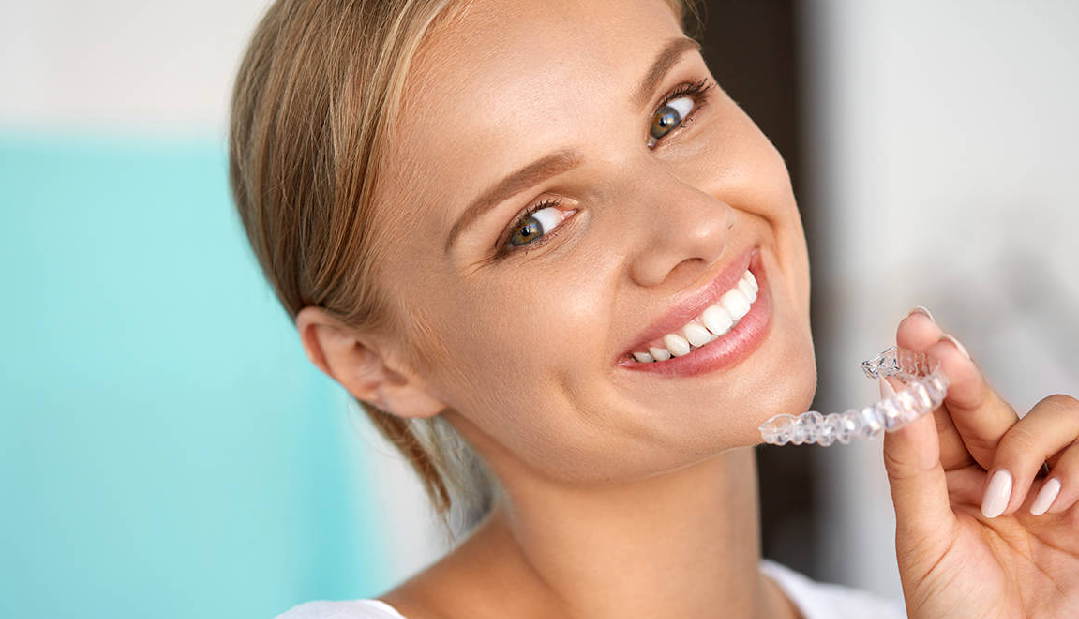 What are Clear Aligners or Invisible Braces or Transparent Braces?​
Clear aligners are custom-design and manufactured plastic trays designed to treat mild to moderate aesthetic dental issues without painful and ugly metal brackets, screws, and wires. A series of progressive clear aligners are used to move the teeth in small increments to their required position and gain the expected results in the projected time period.
Digital technology and personalized aligners help patients get the near perfect aligner at every step of the tooth movement process. To get a clear aligner, you need to visit the dental clinic for a consultation with an invisible braces dentist. The dentist at the clinic will first examine your smile and dental health.
If your teeth are slightly misaligned, then only the dentist will suggest for clear aligners. If your teeth are capable of getting aligners dentist will get scan or impression of your teeth. Your clear aligners are then custom designed and manufactured using a 3D scanner.
The dentist at the clinic is in complete control of the treatment and will update and make necessary changes as the treatment progresses over time. You will be provided with a set multiple of aligners as the treatment progresses. You need to keep changing the aligners every two weeks.
Every successive change in the aligner set will move your teeth by a small amount. To get a fine result, you must wear clear aligners throughout the day and remove them while eating, drinking, brushing, flossing, or for special occasions.
The aligners give you the comfort of removing them whenever you want. But it is better to wear them for at least 22hours in a day. Also, since they are transparent, they are almost invisible and hence keeps your smile confident and perfect.
Clear Aligner Pros:
Clear Aligners are an invisible set of braces and hence, give a great aesthetic while smiling.
You can remove the aligners which makes it easier for you to brush, eat, floss, etc.
The treatment time is generally shorter than traditional braces.
You need fewer visits to the dentist as compared to traditional braces.
Aligners lead to less discomfort than traditional braces.
Clear aligners are safer compared to traditional braces, as they don't have any brackets, elastics, or metal wire which are uncomfortable and sometimes may be quite poky to cheeks or tongue.
Clear aligner treatment is planned and executed digitally, a 3D scan is done at the start of your treatment which shows us the before and after result. This also helps the Orthodontic to properly plan and execute the treatment.
You can expect the result as SDalign treatment starts with a 3D scan and is fully computerized which shows you the before and after result.
Clear Aligner Cons:
Clear Aligners are more expensive than other braces.
You have a chance of misplacing aligners since you can remove them.
They can cause discomfort for weeks since they fit snugly on the teeth.
Your teeth and gums must be in good health condition before starting your treatment.
Invisible braces can easily solve simple and moderate orthodontic cases but there are some complex cases in which clear aligners may not give work effectively, in such cases orthodontists may recommend you to go with traditional braces.
Why choose Sabka dentist for Invisible Braces? ​
Customized Fit: Invisible braces are man-made to suit an individual's needs and comfort.
Invisible Solution: With clear aligners, you will get a beautiful smile in a short period of time.
Best Technology: 3D printers, high-end intra-oral scanners and best materials of international standards are used at Sabka Dentist.
Affordable: Invisible braces/clear aligners cost is now affordable at Sabka dentist with flexible EMI options provided by Bajaj Finserv/Snapmint. Thus, choose Sabka Dentist for affordable Invisible Braces Cost in Mumbai.
We're excited to get you the best smile you deserve. Let our experts clear any doubts you have. Schedule an initial consultation with an orthodontist completely free!
When should you consider Clear Aligner (Invisible braces)?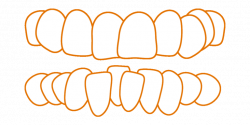 Crowding is a condition wherein you do not have sufficient space for all teeth to fit within the jawline and hence they overlap. The teeth may be rotated or overlap.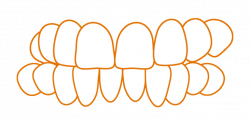 This is a condition where the upper and lower teeth do not meet in correct alignment and in some cases protrude outwards.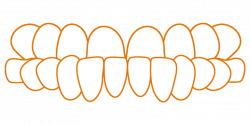 Underbite is a dental condition where the lower teeth are over or on top of the upper front teeth.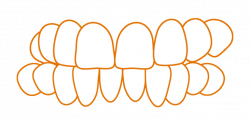 This is a condition where there is general misalignment of the two arches of the upper and lower teeth.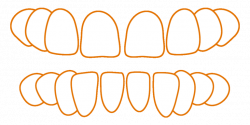 Gaps between teeth and space
Spacing or gaps on teeth is a condition where you have extra space between teeth resulting in gaps between the teeth.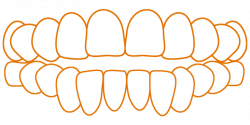 An open bite is a common problem when your back teeth are closed which means the upper and lower teeth touch each other, but your front teeth do not touch because of which there is a gap that remains between the upper and lower teeth.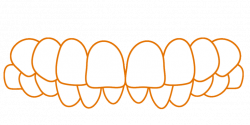 A deep bite is when upper front teeth are on top of or overlap the bottom front teeth when back teeth are closed. The lower teeth in such cases are almost invisible when the person smiles.
What are the Benefits of Clear Aligner?
Invisible – Clear Aligners works in two ways, making it functional for the biting process and improve the asymmetry teeth in a proper position.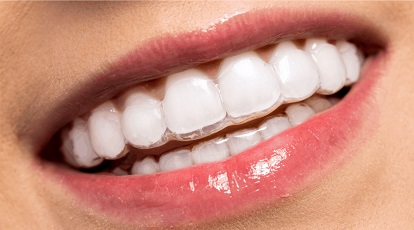 Easy to brush and floss – Since Invisible braces are easily removable, you can continue to brush and floss as you normally do.
Eating – with aligners, you can now eat food of your choice, without worrying about food getting stuck to brackets or wires, as you can remove them each time you eat.
Playing Sports – You can safely play sports while wearing aligners.
How much does Clear Aligners or Transparent Braces cost?
Invisible braces cost is now affordable at Sabka dentist with easy payment options like 0% EMI & flexible payment options from Bajaj Finserve, Snapmint, etc.
| | SDalign | Traditional braces |
| --- | --- | --- |
| Cost | Rs. 60,000 | Rs. 20,000 – Rs.60,000 |
| Time required for Treatment | Wear for 20 hours per day. Treatment time differs from case to case. | Cemented onto teeth 24/7. Treatment time differs from case to case. |
| Maintaining Hygiene and Cleaning | Change of aligners is required every 2 weeks. Aligners need to be cleaned with a brush and rinsed. | Braces need to be kept clean of food lodgment by brushing and flossing. They can be cleaned using an interdental brush. |
| Visits to the Dental Clinic | First Visit for a Checkup, Second visit for a scan or impression, Third visit for delivery of aligners, Visit every 3 months for follow-up. | First Visit for a Checkup followed by a visit every month for wire tightening, wire and elastic changes. |
| Post Treatment Care | Needs a retainer to maintain keep the teeth in place. | Needs a retainer to maintain keep the teeth in place. |
| Perfect Solution for | Perfect for working professionals. It is also ideal for People who do not want orthodontic braces visible. | These work better for complex orthodontic cases which require large movements of teeth. |
References
Weir, T. (2017). "Clear aligners in orthodontic treatment". Australian Dental Journal. 10.1111/adj.12480. 28297094.
Rossini, G.; Parrini, S.; Castroflorio, T.; Deregibus, A.; Debernardi, CL. (Nov 2014). "Efficacy of clear aligners in controlling orthodontic tooth movement: A systematic review".
Angle Orthod. 10.2319/061614-436.1. 25412265. The quality level of the studies was not sufficient to draw any evidence-based conclusions.
John D. Da Silva, Oxford American Handbook of Clinical Dentistry, New York: Oxford University Press, p. 162.
Yu, Y; Sun, J; Lai, W; Wu, T; Koshy, S; Shi, Z (6 September 2013). "Interventions for managing relapse of the lower front teeth after orthodontic treatment". The Cochrane Database of Systematic Reviews.10.1002/14651858.CD008734.pub2. 24014170.
Basavaraj Subhashchandra Phulari (30 June 2013). History of Orthodontics. JP Medical Ltd.
Rakosi, Thomas; Graber, Thomas M. (2010). Orthodontic and Dentofacial Orthopedic Treatment. Thieme.
Melsen, Birte (3 February 2012). Adult Orthodontics. John Wiley & Sons. pp. 353
Cowley, Daniel (August 1, 2012), Effect of Gingival Margin Design on Retention of Thermoformed Orthodontic Aligners, University of Nevada, retrieved March 11, 2014
"The role of attachments in clear aligner treatment". orthodonticsaustralia.org.au. November 2, 2018.
"6 Things you didn't know about clear aligners". orthodonticsaustralia.org.au. October 18, 2018.
Feder, Barnaby J. (18 August 2000). "Orthodontics Via Silicon Valley; A Start-Up Uses Computer Modeling And Venture Capital to Reach Patients". The New York Times. p. 1.
Liedtke, Michael (September 23, 2000). "Using new software, dentists straighten teeth without braces". Associated Press. Retrieved January 9, 2014.
Liedtke, Michael (January 26, 2001). "Align Technology Raises $130 Million in IPO". Associated Press. Retrieved January 9,2014.
Bush, Jewel (August 14, 2001). "Stealth Braces". NYT Regional Newspapers. Retrieved January 9, 2013.
Gretchen, Antelman (2008). International Directory of Company Histories.
Lau, Gloria (May 3, 2004). "It has a bracing impact on patients; Align Technology".
"OrthoClear, Align end lengthy legal fight". Silicon Valley Business Journal. September 28, 2006. Retrieved January 9, 2013.
Benesh, Peter (March 19, 2007). "No More Mouthfuls of Metal". Investor's Business Daily. Retrieved January 9, 2013.
Treatment of deep bite malocclusions". BDJ.10.1038/sj.bdj.2014.164. 0007-0610.
Plunkett, Jack W. (March 1, 2009). Plunkett's Companion to the Almanac of American Employers 2009: Mid-Size Firms. Plunkett Research, Ltd. p. 134
Edwab, Robert R. (2003). Essential Dental Handbook: Clinical and Practice Management Advice from the Experts. PennWell Books. p. 412.
"Restructuring Roundup: Align to close New Jersey facility, will cut 119 jobs". Medical Device Daily. September 9, 2011.
"Align Technology and OrthoClear end Litigation" (PDF). Ortho Tribune. October 16, 2006. Retrieved January 7, 2013.
"Inc. Company Profile Rank". 2018-08-15.
"ClearCorrect honored by Inc. magazine". DrBicuspid.com. August 30, 2011.
Orthodontic Treatment with Clear Aligners– American Association of orthodontist. June 13 2018.
"Dental Cosmetic Center of Houston". Archived from the original on April 25, 2012.
Lynn S. "Invisible braces". ArchWired.com.
 All about clear aligners (June 6, 2021)
Casey Wooten (August 23, 2009). "Competing at the cutting edge". The Business Journals.
EEcharri P, Echarri J. Updating CA Clear Aligner. Dental News 2017:24(4). available at Updating clear Aligner Therapy/
"Align Technology Files Lawsuits Against ClearCorrect". GlobeNewswire. February 2, 2011.
"ClearCorrect denies patent infringement, countersues Align". DrBicuspid.com. May 12, 2011.
"Comparison of UK Clear Teeth Aligner Treatment Costs". aligners.co.uk.
"An Expert's Guide to Clear Aligner Treatment" (PDF). orthodonticsaustralia.org.au.
Frequently Asked Questions
What are the things you should take care of during your aligners treatment?
Aligners are advanced versions of braces used by orthodontics to perform transparent orthodontic braces treatment. Aligners are a more comfortable treatment than braces. However, there are still some restrictions you should follow during the treatment.
Here are things you should avoid during the treatment.
Properly clean your aligners before wearing them.
Avoid wearing your aligners while playing sport and during any physical activity.
Properly brush your teeth before wearing your aligners.
Avoid eating and drinking(except water) with your aligner.
What happens if I don't wear my aligners for 22 hours a day?
To make sure your aligners work effectively, you should wear them for 22 hours. However, if you don't wear your aligner for 22 hours, the chances of your teeth shifting to their previous location increase. Not wearing your aligners for 22 hours can lead to severe problems in your treatment.
Do aligners change your face structure?
Aligners help in aligning the misaligned teeth. Perfectly aligned teeth elevate the jaw bone structure and give them proper space to rest, which changes your face structure.