With advances in dentistry, newer types of braces, including ceramic, self-ligating, and fast braces, are now available. Regardless of the type of braces you pick, the duration of orthodontic treatment varies in each individual and depends upon several factors, including the severity of the malocclusion. In some patients, treatment may take around 24 months, while for others, it may take less than a year.
With SD Align clear aligners, India's most affordable and accessible braces, they are also the fastest invisible dental braces that promise and deliver quicker results.
Different Types of Braces Available Today
If you are thinking about getting braces to straighten your teeth, it is natural to get confused about which ones to pick. We are sure you don't want to be stuck with metal or ceramic bits on your teeth for an eternity. It is, therefore, helpful to get fast braces for correcting your teeth' alignment.
Here are the different types of braces available in India today:
Traditional metal braces
Ceramic braces
Modern metallic or self-ligating metal braces
SD Align clear aligners
The right braces for you depend on the complexity or severity of your case, compliance, and quality of the braces chosen. While conventional metal and ceramic braces may be suitable for children, clear aligners are apt for adults.
With a growing demand for fast braces with the quickest results, affordable clear aligners were launched!
Fast Braces in India: Modern Metallic Braces
Modern metallic or self-ligating metallic braces are similar to traditional metal braces with smaller brackets and an elastic-free wire slot. It is natural to wonder, "How are these braces different?".
These modern metallic braces have rounder edges for additional comfort and have been designed to apply more pressure for a longer duration to move teeth faster and quicker. Your orthodontist often places two hooks, one in each jaw, for added anchorage for elastics.
Since these modern metallic braces work faster than conventional ones, you will begin to see results within months. Most patients who opt for these braces do so for accelerated results. Since these braces are slightly more expensive than conventional ones, they still fall under the affordable range.
Accelerated Orthodontics
Orthodontics is constantly evolving, and newer treatments are being used in clinical practice. Accelerated orthodontics is the latest in the field of orthodontics and is used with other treatment types to accelerate the process. The various systems are designed for adults who wish to get their teeth straightened in the shortest possible time.
Propel alveocentesis
AcceleDent Method
Micro-osteoperforation
In accelerated orthodontics, the orthodontist uses chemicals and biological substances like cytokines to stimulate quick bone remodeling and enable teeth to move faster. However, since these techniques are advanced, they are a bit expensive compared to other orthodontic treatments.
Braces that Work the Fastest in India: Clear Aligners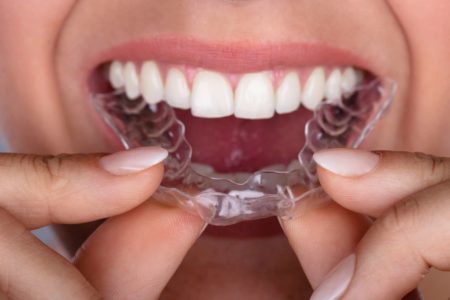 Clear aligners or invisible braces are popular and a crowd favorite due to their superior aesthetics, unmatched comfort and convenience. These aligner trays fit snugly on the upper and lower teeth and apply forces to move them into their newly-allotted positions.
Unlike traditional braces, clear aligners apply small yet constant forces. For this reason, clear aligners are fast braces. The comfort and convenience of these trays also result in better patient compliance.
Clear aligners are used for mild malocclusions, which they can treat in 3 to 4 months, while moderate cases may take slightly longer. With the best quality of clear aligners like SD Align, clear aligners in India are now affordable and accessible.
Who Can Get Clear Aligners?
If you are wondering, "Who can get clear aligners?" or "Who can get fast braces?" here's what you need to know. For effective teeth movement, you must have healthy teeth and gums. Clear aligners also require patient compliance, which directly affects braces' success. This indicates clear aligners are best for adults.
Clear aligners or fast braces are customised for each individual and are recommended for adults with all their teeth erupted. Clear aligner trays apply consistent forces on teeth to activate the bone and cause quick remodelling, resulting in tooth movement.
Results with Clear Aligners: India's Fastest Braces
If you have had irregularly-aligned teeth all your life, you understand the importance of getting your teeth straightened quickly. However, before you decide to choose SD Align- India's fastest braces, here are a few things to consider:
Why do you want to get fast braces?
Are fast braces affordable for you?
Are your teeth and gums healthy enough for metallic braces or accelerated orthodontics?
How severe or complicated is your malocclusion?
While you ponder these questions, discuss your concerns and queries with your orthodontist. Your orthodontist will also help you choose the best braces for you.
If you are all set to get fast braces, get only the best- SD Align clear aligners. Contact us today to know more, or visit your nearest Sabka Dentist clinic to meet our expert orthodontists.
Frequently Asked Questions
What type of braces is the best?
SD Align clear aligners are the best braces in India today. These braces are superior in aesthetics, comfort and convenience and work faster than conventional metal or ceramic braces. You will notice changes in your teeth' alignment and facial structure in just a few months.
How can I make braces work faster?
SD Align clear aligners move teeth fastest in people who have healthy mouths. Clean teeth and healthy gums support quick movements, making your treatment with braces and clear aligners fast. Additionally, clear aligners are removable and allow proper oral hygiene maintenance, so they help teeth move quicker than traditional braces.
How long does it take to see results with braces?
The duration of braces treatment varies for each individual depending on several actors, such as
Severity of malalignment 
Bone density
Patient age
Oral hygiene status
Type of braces chosen
Patient compliance
Regardless of the braces you choose, you will begin noticing changes in your teeth' alignment within six months. If you are undergoing treatment with clear aligners, your treatment duration will usually be around 6-18 months. Treatments for people with severe malocclusion may go on for 24-36 months.