Quick Delivery
Assured Treatment
Typical problems with Aligner Treatment are due to long delivery schedules of aligner companies & Reboots & Refinements.
SDalign provides a 13 day delivery & unlimited Reboots & Refinements.
Provide assured treatment with quick delivery time to your patients. Fill the form to join as a Partner.

13 Day Delivery Time
Our High-Tech manufacturing setup in Mumbai, India can deliver aligners in just 5 days after approval of virtual setup.

Collaborative Treatment Planning
We work with you and involve you in the treatment planning & teeth movements to make the process more predictable and controlled by you.

Unlimited Reboots & Refinements
We understand reboots & refinements are a part of the aligner process and all our plans come with unlimited reboots & refinements.
Versatile & Exhaustive Attachment Options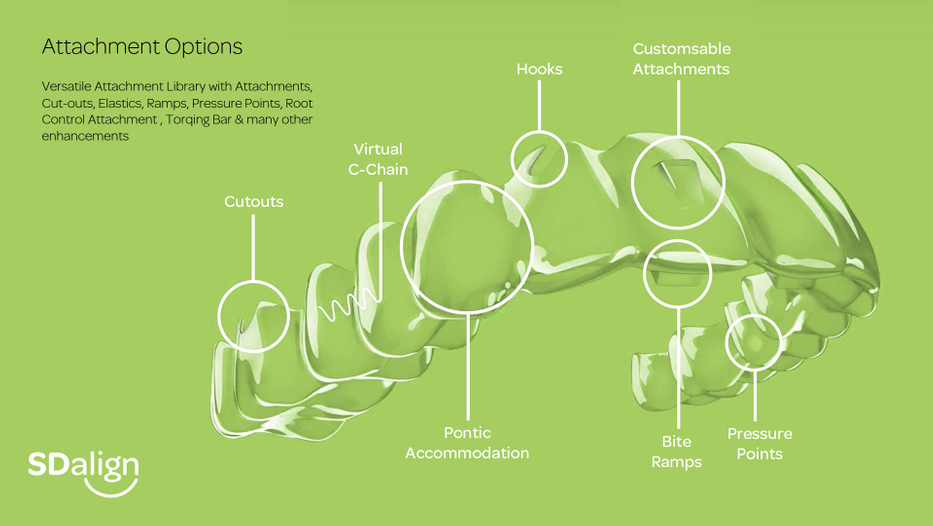 SDalign - 20 Plan (Simple)
Upto 20 Aligner Sets
Case Expiry: 12 months
Price: Rs. 40,000/-

SDalign - 40 Plan (Normal)
Upto 40 Aligners Sets
Case Expiry: 24 months
Price: Rs. 60,000/-

SDalign - 80 Plan (Complex)
Upto 80 Aligners Sets
Case Expiry: 60 months
Price: Rs. 80,000/-
Terms & Conditions
Unlimited Reboots upto Case Expiry*
Unlimited Refinements upto Case Expiry*
Free Chewies.*
Free Aligner Removing Tool.*
Free Storage Box.
Free Replacement of aligner if worn out or damaged.*
Aligners will be delivered in batches of 6 sets
* Fair Use Conditions Apply