If you are looking for straighter teeth and a more aesthetic smile, orthodontic treatment is the most natural and effective way to go about it.
Today, several braces are available, from traditional metal to ceramic braces and the latest entrant– clear aligners. These braces effectively treat alignment issues like crowding, spacing, protrusion, and diastema.
We all desire a perfect smile, but very few are lucky. But, orthodontics helps anyone with irregular teeth get the smile they've always dreamt of. Regardless of the type of braces you choose, each has pros and cons.
When choosing the right kind of braces, most people spend significant time deciding between braces and aligners.
In this article, we help you understand the difference between traditional braces and clear aligners and help you make the most appropriate choice.
Common Problems With Braces
Braces were traditionally made from metal and comprised brackets fixed on teeth. With a growing demand for aesthetic options, ceramic braces came into being. They are all visible when you smile, talk, and eat, whether metal, ceramic or self-ligating braces.
Since these are fixed options, you must be mindful of your food, brushing, and flossing habits throughout your treatment.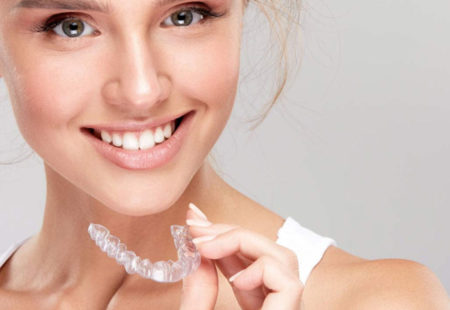 Here's how clear aligners can help overcome the common problems most people experience with braces:
Convenient and hassle-free
Clear aligners are removable options and are way more convenient for patients and dentists. Aligner trays are easy to wear; all you need to do is insert them as per your orthodontist's instructions. Your doctor will also teach you to remove them without hurting your gums and teeth.
Since the aligner trays have a smooth finish, they do not cause knicks and cuts on the cheek or gums as is common with traditional fixed braces. SD Align's aligners are easy to insert, remove, and comfortable when worn. Most people almost forget they have their aligners on!
Require fewer clinic visits
During fixed braces treatment, you will need to visit your orthodontist at least once a month to tighten your wires, treatment monitoring, or perform additional procedures. However, with clear aligners, the number of orthodontist visits is fewer, and you are required to visit them once every four to six weeks.
Regardless of where in the world you are, all you need to do is follow your orthodontists' instructions on the Dos and Don'ts of your clear aligners.
With fixed braces, any minor breakage or dislodgment issue will require a visit to the clinic, which does not happen with clear aligners.
Lesser maintenance
While keeping teeth and gums seems difficult, wearing fixed braces only makes the job more challenging. With brackets fixed on your teeth and a mouth full of wires, there is a greater chance of food getting stuck on them, resulting in bad mouth odor, and an increased risk for tooth cavities and gum infections.
So, you must brush, floss and use a mouthwash more often than you would without braces.
With clear aligners, however, maintaining good oral hygiene is easy. You need to remove your aligners, brush and rinse your teeth, wash the aligners or brush them with a soft-bristled brush, and put them back on. Brushing and flossing are extremely easy!
Far more comfortable than braces
One of the biggest deterrents to braces treatment is the discomfort that fixed braces cause. Most people do not wish to have a mouthful of metal or ceramic for a year or two. Imagine taking extra care about what you eat, how you eat, how to brush, and protect your braces while playing a sport.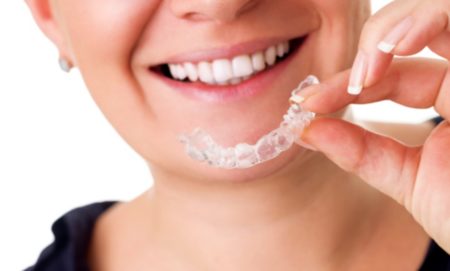 Wearing fixed braces can be very uncomfortable, leave alone dealing with cuts, knicks, and ulcers due to the pricking wires.
Clear aligners are simple, smooth plastic trays that are a breeze to wear during your orthodontic treatment. No lifestyle changes, no extra care– just wear your aligners and watch them do their wonders. This makes clear aligners a more comfortable option than braces!
Give you a confidence boost during your treatment
Irregularly aligned teeth make several people conscious of their smiles customized and lower their confidence. If you prefer to cover your mouth while laughing or smiling, you are not alone!
While braces are used to correct teeth alignment, they are unaesthetic and further impact an individual's confidence to smile, talk or laugh in social settings.
Getting clear aligner treatment is a confidence booster as they bring about teeth movement in the most discreet way possible. Clear aligners are a great orthodontic treatment option for everyone who feels shy or embarrassed to wear fixed braces.
Aligners Vs Braces: What's The Better Bet?
When it comes to teeth alignment treatments, most patients are familiar with braces. However, clear aligners, also called invisible braces, are the new-age replacement of traditional braces and, by far, the most aesthetic option there is.
During braces treatment, metal or ceramic brackets are fixed on your teeth using dental glue, and a metallic wire is passed through them. Modules or tiny elastic bands are placed on the brackets to keep the wire in place.
Due to this arrangement, braces give an unaesthetic metallic or a bulky ceramic smile throughout the treatment duration.
While braces are an effective teeth alignment option, most people avoid orthodontic treatment due to discomfort and poor aesthetics. Clear aligners are braces with no brackets or wires and are made up of medical-grade plastic.
Each set of trays is customised as per the patient's needs and is removable. For this reason, clear aligners are comfortable and convenient and are almost invisible even from close distances.
If you are confused about the best option between aligners and braces, we've got you a comparison chart to help you decide!
| | |
| --- | --- |
| Clear Aligners | Braces |
| Made from medical grade smooth plastic | Made from metal or ceramic |
| Removable | Fixed |
| Required to be worn for at least 20-22 hours per day | Must be worn 24×7 throughout the treatment duration |
| Easy to wear, remove, clean and maintain | Difficult to clean |
| Virtually invisible, even from close distances | Visible and often unaesthetic appearance |
| Extremely comfortable | Less comfortable |
| Must be removed before eating and drinking | Need not be removed while eating and drinking |
| No diet restrictions during aligner treatment | Diet and food restrictions during braces treatment |
Key Takeaway!
Fixed metal and ceramic braces have been around for several decades and are usually the treatment of choice for moderate-to-severe teeth alignment issues.
However, with advancing technology and more people seeking aesthetic braces options,  clear aligners are an effective and the most aesthetic choice.
If you are unsure about the best braces for you, visit our expert orthodontists at Sabka Dentist clinics. Are you looking for clear aligners in India? Get SD Align- the best clear aligner brand in the country today!