Invisible Braces or Clear Aligners were originally launched by Invisalign. Now there are multiple brands of invisible braces or clear aligners available in the market. Some of them being Clear Correct from Straumann, Reveal by Henry Schein, CA aligners (from Germany), SDalign by Sabka Dentist, Toothsi (from India) and many more. Invisible Braces or Clear Aligners use vacuum formed trays made of invisible stiff plastic like PETG or PU. 
These trays are made using 3D design and 3D printed technology. A 3D design high tech software is used to simulate the movement that is desired for your teeth and the teeth are slowly moved into that position by a series of these plastic trays. Each of the trays move a tooth by a maximum of 0.2 mm and every 15 to 20 days the successive trays have to be changed.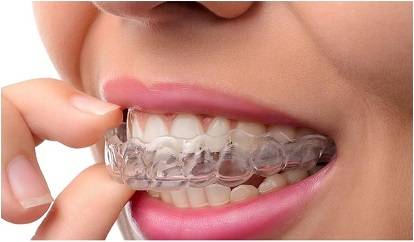 This is very different from traditional orthodontics where the teeth are moved by pulling them using metal wires and brackets. Due to the difference in the concept and technique of the treatments there are some benefits of Clear aligners or Invisible Braces Treatments as compared to Metal or Ceramic Braces.
Benefit 1 : Invisible Braces are a lot more comfortable as compared to Metal Braces.
Invisible Braces or Clear Aligners are made of plastic which inherently is less aggressive on the soft gums and tissues in the mouth. So unlike metal braces, Invisible Braces generally do not cause inflammation or ulcers which could happen due to cuts or bruises caused by metal brackets.
Also, since the invisible braces do not use wires and aggressive torque to move teeth, the stress applied on the teeth is less. Due to this, the pain associated with the treatment is also largely reduced. These are some of the reasons why clear aligners or invisible braces are more comfortable as compared to traditional braces which use wires and brackets.
Benefit 2: Invisible Braces are more clean and hygienic.
Invisible Braces use plastic trays which are too worn by the patient to move teeth. These trays are removable. Since they are removable, they are easy to clean and hence oral hygiene is easy to maintain.
In the case of traditional orthodontic treatment using braces and wires, it is very difficult to maintain oral hygiene due to the wires and brackets. Brushing and flossing is also very difficult. Food also gets stuck in the brackets and wires.
Due to these reasons caries formation and bad breath can happen if extra effort and care is not taken to keep the brackets and wires clean and hygienic. However, since invisible braces or clear aligners are removable, it is very easy to brush and floss your teeth.
Also, you need to remove the aligners before you eat, so there is no food lodgment. Hence, Invisible Braces or Clear Aligners are clean and more Hygienic as compared to traditional braces.
Benefit 3: Your Diet is not compromised . You can eat whatever you want!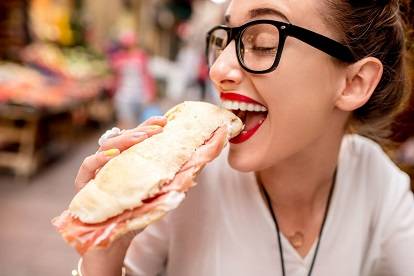 Invisible Braces or Clear Aligners are to be removed before eating. Hence, there are no restrictions on food and diet. However, in case of traditional Braces or orthodontic treatment with wires and brackets, you need to be careful of food items which can cause damage to the brackets or the wires. 
Generally, food items that require biting from anterior teeth like Pizza, Burgers, Pav Wada, French Fries are prohibited during traditional braces treatment. This is where Invisible Aligners make your life extra easy. You do not have to compromise on your choice of food and continue binging on your favorite foods just by removing the aligners when you eat.
Hence, Invisible Braces or Clear Aligners help you maintain a normal diet without any compromise which is not possible with the traditional metal braces. However, removal and putting of the SD align and clear aligners must be done in a proper way.
Make sure you follow all the guidelines given by your Orthodontic. It is recommended that you should wear your aligners for at least 22 hours a day.
Benefit 4: Invisible Braces save you time and travel since you do not have to visit the clinic.
Invisible Braces do not need you to visit the Dental Clinic periodically. The number of visits are highly reduced as compared to traditional metal or ceramic braces that use brackets and wires to move teeth. In the case of traditional orthodontics or Braces, you have to visit the dental clinic every month.
Every month the orthodontist tightens the wire, changes the wire or makes changes to the elastics to control the movement of the teeth. However, in case of invisible braces or clear aligners, teeth are moved using digitally planned and 3d printed plastic trays that do not need the doctor's assistance to be changed and can be done by you without visiting the clinic.
Hence, Invisible Braces or Clear Aligners save you time for the dental visit and also save your efforts of travelling and waiting at the dental clinic.
Benefit 5: Invisible Braces keep you smile, looks & confidence intact!
Invisible Braces or clear aligners are not visible when wearing them. Hence, your smile is as pleasant as it was when you were not undergoing the treatment. However, traditional braces which use wires and brackets are very visible and hence cause a difference to your smile and therefore your looks.
The metal brackets may also impact your speech in the short term. With Invisible Braces there is no difference between your smile or looks before treatment starts and when the treatment is going on. Hence, invisible braces or clear aligners keep you smiling and look intact and hence your confidence is the same as before.
With these 5 primary benefits, invisible braces or clear aligners are a great choice to align any crooked, misaligned teeth closing any gaps in your teeth. A perfectly aligned set of teeth give you a confident smile and a pleasing personality.
The treatment time for Invisible Braces or Clear Aligners depends on the complexity of the case and may be as short as 6 months to more than 24 months. Your dentist will be able to give an approximate estimate of the time frame after doing a checkup.
SD align Clear Aligners or Invisible Braces is the perfect choice for invisible braces because it is affordable, made by experienced orthodontists and designed using best in class software and hardware systems from 3Shape Denmark.
For more information, please visit www.sdalign.in or WhatsApp or call on 7506020202