"Invisible teeth braces" also called clear aligners in dentistry, are the latest technological advancement that have made orthodontic treatment less noticeable and more popular. Orthodontists custom make a set of removable transparent trays to move teeth in an ideal position thus straightening and aligning your teeth.
How do Aligners Work?
Like traditional braces, Invisible braces are designed to straighten the teeth and move them in an ideal position.
As the treatment begins, the orthodontist will first examine the patient's mouth, take records like X-rays, photographs, and digital impression of the teeth. From the recorded information, the orthodontist will move to the second step of diagnosis.
The work of designing the tray for your teeth will begin in this process. For invisible braces, a software is used to design and accordingly treatment plan is made. This 3D designing also lets the patient see the end result of their straightened teeth which is not possible in traditional braces
The goal of getting aligned/straight teeth is to correct the biting process so that all teeth are in the correct function and fit with each other properly. The procedure of moving and straightening teeth is a complex process and needs proper supervision by the orthodontist from start to the end of the treatment. People wearing invisible braces are advised to see their orthodontist after every two weeks for a check-up.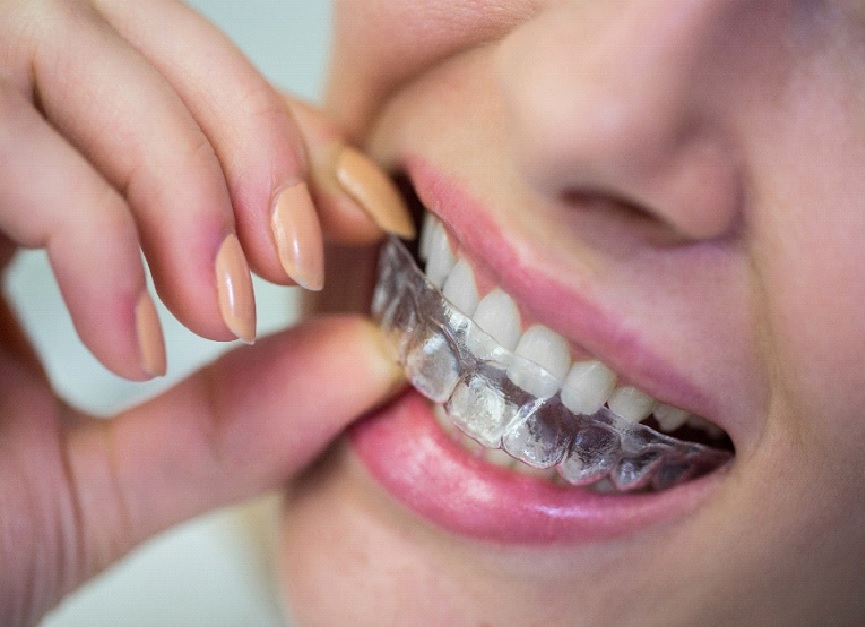 With the goal of giving a healthy smile, a series of aligners are made by using the patient's digital scans or the impression. It is considered to be the starting point of the treatment. The invisible braces are transparent replicas for your natural teeth.
A gentle pressure will be experienced after wearing them. This pressure will help in the momentum of the teeth.
Individuals are recommended to wear invisible braces every day for at least 22hours. The set of invisible braces should be worn for at least two weeks, before getting a new set of invisible braces.
After a period of time, teeth are positioned, as per the orthodontist's plan. Once the teeth are aligned in a position, the patient is given retainers to keep the corrected/aligned teeth in place
Pros and Cons of Invisible braces
The best thing about clear aligners is that they are removable and transparent.it means you can get your teeth corrected without having to feel the awkwardness of traditional braces. Aligners are recommended to be worn for at least 22 hours a day although they can be removed while eating, brushing, flossing, or for a short period of time.
In a few complex cases of misaligned teeth, Invisible braces may not work. In such a situation, braces may be the only option.
Proper care for invisible braces should be taken. Drinking or eating with invisible braces cause stains. Hence it should be removed.
Avoid using sugary and acidic drinks when aligners are worn, or else it will be a house for cavities and yellow stains.
Even if you are consuming sugary or acidic drinks, make sure that you remove the aligners and brush your teeth, before wearing them back.
Sometimes patients feel discomfort in aligners and end up removing them. Aligners can't work unless they are not in the mouth! Sometimes, there are also chances of losing them. Hence, make it a habit of keeping the aligners in a box and not in napkins, pockets, or purse. If you lose or damage aligners, contact your orthodontist immediately for advice on the next steps.
Are Invisible braces right for me?
The best way to answer the question is to consult an orthodontist. Because an orthodontist is the only expert who is familiar with the types of braces appliances that are suitable for different teeth, They are the ones who can aptly suggest what is right for your teeth.
Trusting the professional for their choices will achieve amazing results and make you look great
Choose our SDalign clear aligners to experience the benefits and comfort of invisible braces