If you are craving a million-dollar, celebrity-like smile, clear aligners or invisible braces are for you! Getting a straight, well-aligned smile has always been possible using metal and ceramic braces.
With the latest advances like clear aligners, getting a celebrity-like smile is now possible in the most discreet way. For most people, clear aligners sound too good to be true. But how feasible are they? Let's find out!
What are Invisible Braces?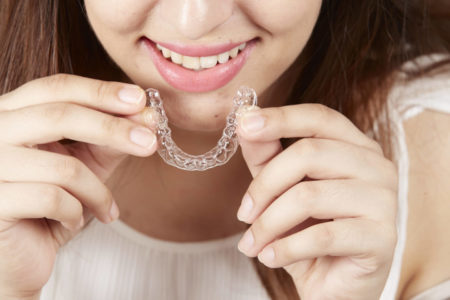 Invisible teeth braces or clear aligners are a type of braces used to align teeth in orthodontics. Though they are considered to be braces, clear aligners are transparent plastic trays made from medical-grade PETG sheets. They are called invisible braces because they are not visible when worn, even from very close distances.
Clear aligner trays are tailor-made for each patient. Wearing them for the required hours helps move teeth into proper alignment, giving you a perfect smile!
Why Should You Choose Invisible Braces?
Since clear aligners are a relatively new braces option, it is natural for most people to wonder why they should opt for them over tried and tested traditional braces. Here are some indisputable benefits of invisible braces and why you should choose them:
Superior aesthetics
The most striking feature of clear aligners that makes them attractive to most people is their transparent nature, making them the most aesthetic braces today. Clear aligners are invisible when worn on upper and lower teeth, even from close distances. So, there's no need to hide your smile anymore!
Removable
Traditional braces have brackets stuck on the teeth through which a wire is passed. This makes metal, and ceramic braces fixed options to straighten your teeth. Clear aligners, on the other hand, are removable.
You must wear them for a minimum of 22-23 hours a day, removing them while eating, drinking, and brushing. Aren't these aligners the most convenient way to get a million-dollar smile?
Easy to maintain oral hygiene
You must brush and floss twice a day to keep your teeth and gums healthy. Many orthodontic patients with fixed braces who do not brush and floss properly have tooth cavities. Due to removable braces, brushing and flossing are easy.
Allow you to visualize the result
During the initial steps of clear aligner fabrication, your treating orthodontist will share a 3D treatment plan using advanced software. This enables you to visualize your treatment process and result. You will also get an idea of the tentative duration of your treatment and how long it will take for the aligners to straighten your teeth and give you that electrifying smile.
More comfortable
With a mouth full of brackets, wires, and elastic modulus, fixed braces cause discomfort. It is common to experience knicks, cuts, ulcers, or bruises during orthodontic treatment with metal and ceramic braces. With clear aligners, the smoothness of the trays avoids all the discomfort common in fixed braces options, making it a comfortable, relaxing treatment.
No diet restrictions
One of the many drawbacks of fixed braces is the dietary restrictions that come with them. All orthodontists advise their patients to avoid hard, sticky foods that can cause the bracket to come off the teeth and delay treatment. If you choose to get your teeth aligned with clear aligners, you can eat your favorite foods with absolutely no dietary restrictions.
Who is an Ideal Candidate for Invisible Braces?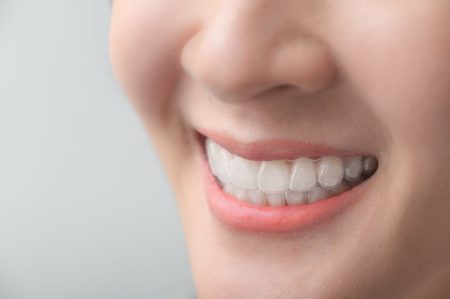 Teenagers and adults who wish to get straight teeth without wearing conspicuous metal or ceramic braces are ideal candidates for clear invisible braces treatment. If you have any of the following conditions, you may be a great candidate for invisible braces:
Mild crowding
Mild to moderate spacing
Narrow arches
Deep bites
Slight intrusion of teeth
Are Invisible Braces Value for Money?
After understanding the benefits of invisible braces and their comfort and convenience, it is natural to wonder, 'Are they a feasible option?' Though they appear too good to be true, invisible braces are a readily available and accessible reality today. Are they worth the cost? They truly are, especially because they are highly affordable with the best quality India-made aligners like SD Align.
We offer easy payment options like EMI to help you get your million-dollar smile in the most secretive way possible with our SD Align clear aligners! Ready to get your invisible braces on? Reach out to us or drop into your nearest Sabka Dentist Clinic today.