Having well-aligned teeth gives us a pleasant and attractive smile. But not everyone is lucky to have perfectly straight teeth. While braces have been used to straighten teeth for decades, they are not aesthetic and often give you a metallic or a bulky ceramic smile.
To do away with these disadvantages of traditional braces, clear aligners for teeth or invisible braces were introduced. There are several clear aligner brands available today, but SD Align is the premier and best clear aligner treatment provider in India today.
If you are conscious about your smile or wish to get your teeth aligned most inconspicuously, SD Align is what you are looking for!
Clear Aligners: What are They?
Clear aligners or invisible braces are the most aesthetic braces available today. They are a set of transparent upper and lower trays that move them into a straight line to give you a beautiful smile.
Though clear aligners work just like conventional braces, they are invisible when worn on upper and lower teeth, even from close distances. They are efficient to treat mild to moderate malocclusions that include: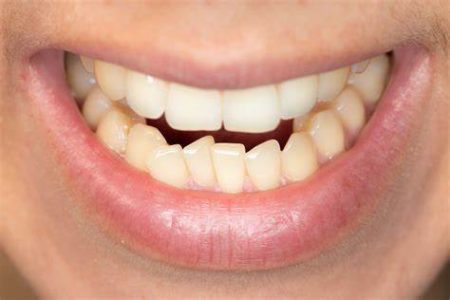 Crowding
Spacing
Forwardly-placed teeth
Tooth rotations
Overjet
Overbite
Crossbite
Open bite
Best Clear Aligners in Hyderabad
Though dental treatment is affordable in Hyderabad, the struggle to find the best quality of aligners is now over with SD Align. If you are looking for clear aligners in Hyderabad or Pune, you will be relieved to know that we deliver SD Align right at your dentist's clinic.
Clear aligners are a preferred treatment choice for orthodontists and their patients – thanks to their superior aesthetic, comfort, convenience and affordability. Contact us at SD Align today if you live in Hyderabad and wish to undergo clear aligner treatment for your dream smile!
Best Clear Aligners in Mumbai
Headquartered in Mumbai, SD Align is available across Mumbai, Thane and Navi Mumbai at Sabka Dentist clinics. Contrary to popular belief that dental treatment, especially invisible braces, is expensive in Mumbai, SD Align trays are the best quality aligners available at affordable rates.
To begin your aligner treatment, all you need to do is visit your nearest Sabka Dentist clinic.
During your appointment, our expert dentists/orthodontists will assess your teeth, jaws and bite to determine if you are a case for clear aligners.
If you are a good candidate for clear aligners, your orthodontist will make impressions of your teeth and perform a 3D scan. These records are sent to advanced software for treatment planning.
An experienced panel of orthodontists will devise a customised treatment plan for you and share it with you and your orthodontists.
Once the plan is approved, the fabrication of your aligners begins. Within ten days of your measurement appointment, you will receive your starter kit.
You must wear your aligner trays for at least 20 hours during the day, removing them only when brushing, flossing, eating and drinking.
Best Clear Aligners in Kochi
If you live in Kochi and are scouting for the best clear aligner providers in the region, we at SD Align are here for you! Using modern scanning technology and the latest manufacturing machines, we provide customised clear aligner trays across India. SD Align is now available at all leading orthodontic clinics in Kochi with Make in India aligners.
Here's why the best orthodontists prefer SD Align:
Timely support and delivery of starter kit and trays
An experienced panel of orthodontists who devise treatment plans
Affordable aligners that are easily accessible to all patients
Easy-to-maintain, no-hassle aligners that are a joy for patients to wear
Ask your orthodontist about SD Align invisible braces today!
Best Clear Aligners in Delhi-NCR/Noida
Orthodontic treatment in the capital and nearby NCR region is expensive. Well, not with SD Align. Clear aligners are transparent, removable trays that are both convenient and comfortable, making treatment with them a total value for money.
SD Align– the best clear aligner company in India, uses biocompatible PETG sheets, a global standard in clear aligner manufacturing.
People in Delhi lead busy lives and are constantly on the lookout for convenient lifestyle options that are safe, effective and comfortable. Here are some reasons why SD Align is the best clear aligner provider in Delhi:
The trays are BPA free and safe to use in the mouth.
With advanced machines used in manufacturing the aligners, SD Align aligners are precise and accurate.
Our orthodontists and dentists closely monitor your treatment progress and ensure everything is on track until you get your dream smile.
We believe in efficiency and assure you our aligners will give you the most dazzling smile in the predicted time.
Best Clear Aligners in Bangalore
Bangalore is a bustling city with a growing number of youngsters, thanks to it being one of the IT hubs in the country. With more and more people looking for discreet ways to straighten their teeth, getting clear aligner treatment is extremely easy and convenient in 'Namma Bengaluru'.
Traditional braces are inconvenient and make one conscious when smiling, talking, eating or laughing. If you are a marketing professional or have a customer-facing IT job in Bengaluru, chances are you are looking for more transparent and aesthetic braces options to straighten your teeth. Well, that's what SD Align is for!
Visit your nearest Sabka Dentist Clinic in Bengaluru and get your consultation appointment with our expert orthodontist. Clear aligner treatment in Bengaluru is pocket-friendly, and we offer easy to pay EMI options too!
What Makes SD Align India's Most Popular Clear Aligner Brand?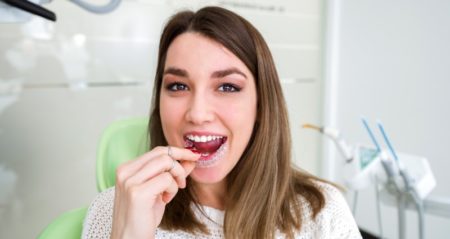 SD Align is India's best aligner brand. Here are the top 7 reasons why SD Align is India's best invisible braces brand:
All SD Align treatments are planned and designed by expert and specialist orthodontists of India who have received additional training in the field compared to technician-led treatment plans in the case of other aligner brands.
These clear aligners are adept at correcting most mild to moderate malocclusions.
While most aligner companies take at least 30 to 45 days to deliver your aligner starter kit, SD Align kits reach you in just ten days.
Since dentists monitor SD Align treatments at your nearest Sabka Dentist or other dental clinics, we ensure there is accountability and reliability of your treatment plan.
We use advanced 3D scanning and software technology to assess your teeth and devise a treatment plan that is precise and accurate.
All SD Align aligners are fabricated using the best quality of biocompatible PETG sheets that are less likely to stain, are transparent, clear and have smooth edges giving patients a comfortable treatment experience.
Since SD Align aligners are fabricated right here in India, treatment using them is affordable and easy on your pocket.
Key Takeaway
If you have been postponing your braces treatment for the most aesthetic, the best quality of braces, SD Align, is here! After having treated hundreds of patients to date, SD Align is available across India in most cities and towns, including Delhi, Mumbai, Bangalore, Pune, Hyderabad, Kolkata, Chennai and Kochi.