A beautiful smile is captivating and memorable. Unfortunately, not everyone is born with a stunning million-dollar smile. But that does not mean you can't get one?
Braces and other orthodontic treatments have been successful in correcting irregular teeth and helping people get their dream smiles. Conventional braces are usually made of metal or tooth-colored ceramic material.
For this reason, when we hear of 'braces' we often picturise an ugly metallic smile. But, not anymore! You can now straighten your teeth with invisible braces – the most advanced and aesthetic braces available today! Let's learn more about invisible braces in this article!
What are Invisible Braces?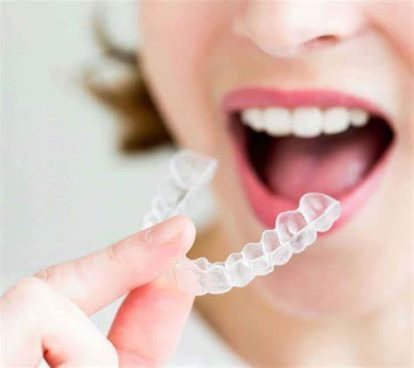 Invisible braces, also called clear aligners, are removable, transparent plastic trays that help move your teeth into a straight alignment. Clear aligners are made from superior quality biocompatible medical-grade plastic.
These trays are custom-fabricated for each patient, and unlike traditional braces, they are invisible when worn on upper and lower teeth (even from close distances!).
How Do Invisible Braces work?
Believe it or not, invisible braces work similarly to traditional metal and ceramic braces. During conventional orthodontic treatment, brackets are placed on teeth, and a wire is passed through them.
When the orthodontist tightens the wire, it translates into forces on the brackets and teeth, causing them to move. Teeth move when sustained forces are applied to them.
Clear aligners work similarly. However, no brackets are involved. They come in a set of upper and lower trays and are custom-fabricated for each patient.
When the trays are worn, they apply small, constant forces to move teeth into alignment. Once the required movement is completed using one set of trays, you must switch to the next set.
While traditional braces apply strong forces in intervals, invisible braces apply small, sustained forces to move teeth.
Advantages of Invisible Braces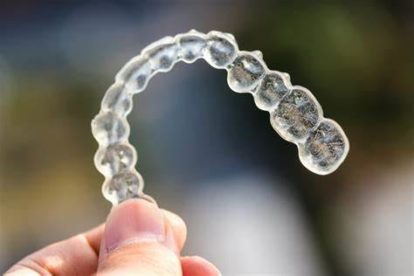 Invisible braces are extremely popular and a crowd favorite for several reasons. If you are wondering about going for Sabka dentist's invisible braces treatment, here are some advantages:
Invisible braces are smooth trays that can be easily worn and removed. Due to the absence of brackets and wires, they do not irritate gums, lips, or cheeks, which are very common with traditional braces. The smooth surface of the braces and soft plastic material make them highly comfortable.
Think of invisible braces, and the first thing that comes to mind is that they are 'invisible'. Traditional metal and ceramic braces are conspicuous, and many people feel the need to hide their smiles while wearing them. However, invisible braces are unnoticeable and, therefore, a popular people's choice. When worn, the aligner trays are not visible even from close distances, making them the most aesthetic braces today.
The most significant disadvantage of traditional metal and ceramic braces is that they are fixed, making it difficult to brush and floss. Since traditional braces are fixed on teeth, many dietary restrictions come with them.
On the other hand, invisible braces are removable and do not come with any of these hassles common with traditional braces. It is easy to maintain oral hygiene, and you can eat anything you want, which makes them the most convenient braces that exist.
Invisible braces are very easy to maintain. All you need to do is clean them with water every time you remove them. Brush them gently before you wear them in the morning, or anytime you feel they are dirty.
Due to a difference in the way invisible braces move teeth and their lack of brackets and wires, treatment with them is almost painless. You may experience mild discomfort when your teeth move, but it is far less than you might encounter with traditional braces.
What Does Getting Invisible Braces at Sabka Dentist Involve?
If you wish to get your teeth straightened using invisible braces, drop into your nearest Sabka Dentist clinic and speak to our experts.
The orthodontist will perform a thorough clinical evaluation during your first appointment and recommend a few diagnostic x-rays to study your facial skeleton.
If you are a candidate for invisible braces, the orthodontist will take measurements or a 3D scan of your upper and lower teeth and record your bite.
These measurements are then sent to a lab where the in-house orthodontist will use advanced software to create your treatment plan. This plan is shared with you and your orthodontist.
You will be able to view a simulation of how your teeth will look after treatment completion.
Once the plan is approved, the lab begins manufacturing your aligner trays. Once you receive the trays, the orthodontist will guide you on how to wear them.
You must wear each set of aligner trays for at least 22-23 hours a day and a minimum of two weeks before moving on to the next one. You must visit your dentist once every six to eight weeks for monitoring.
Are Invisible Braces Expensive?
A common misconception about invisible braces is that they are expensive. Infact, a large section of people does not seek orthodontic consultation presuming the 'high cost' of invisible braces.
We are trained to think all the best things come at high prices, but this is not true with clear aligners!
At Sabka Dentist, we believe that cost shouldn't come in the way of the best quality dental care, and so, we offer invisible braces at affordable prices. Find a wide range of invisible braces options to choose from, all at reasonable rates. We also provide easy payment options.
Are Invisible Braces Better than Traditional Braces?
Many people wonder what the best option to straighten their irregular teeth is. Are invisible braces better than traditional braces? Yes! With all the advantages of invisible braces, they are a better option than traditional metal and ceramic braces.
However, it is essential to note that invisible braces are not for all. Some severe cases of teeth irregularity and patients with improperly aligned jaws are advised to opt for metal or ceramic braces. Speak to our dental expert today!