Think braces, and most of us presume it is for kids and teens, isn't it? But, what if we told you there is no right age for getting your teeth aligned? Ever since we are born, we are constantly growing and developing.
Our body is continually changing with age and any treatment performed whether cosmetic or otherwise, has different effects at different ages. From treatment times to healing, our age significantly affects how our bodies respond.
In this context, it is essential to know that there is no right or best age to undergo orthodontic treatment. Thanks to modern technology and treatments in dentistry, even older adults can opt for braces to straighten their teeth.
Infact, clear aligners or invisible braces are extremely popular among adults and older adults as they are transparent and invisible even from close distances.
What is the Most Suitable Age to Get Orthodontic Treatment?
Although any individual with healthy teeth and gums can undergo orthodontic treatment at any age, we must understand that the most suitable age is between 12 years to 14 years. There are several reasons for this:
Treating irregular teeth very early on is easier and preferred by most orthodontists.
Orthodontists prefer 'preventive' orthodontics rather than 'corrective' orthodontics.
Children in this age group are still growing and have a growth spurt or two remaining. Orthodontists use this growth in the child to move their teeth, leading to shorter treatment times.
The jawbones in children are still pliable, making the orthodontic movement of teeth easy and quick compared to adults.
It prevents malocclusion issues like crowding, spacing, overbite, deep bite, underbite and forwardly placed teeth from settling in. Irregularly aligned teeth can cause tooth decay, gum inflammation, tooth mobility, speech trouble, etc.
Undergoing orthodontic treatment early also means a lesser cost of treatment.
For all these reasons, the most suitable time to undergo orthodontic treatment is as early as possible. That does not mean you cannot hop on to the train later. Let's look at the various braces options and the best one for each age group.
Braces for Orthodontic Treatment at Different Age Groups
Orthodontic treatment uses a variety of braces and appliances to straighten your teeth.
Metallic Braces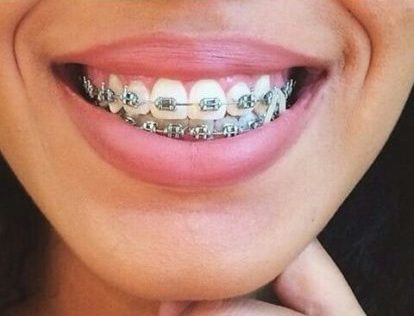 These are the most used braces type and are the best option for complex malocclusion cases. Due to their strength, durability and resilience, metallic braces provide accurate and effective results.
They have been successfully used to straighten teeth for decades. They can be worn by people of all ages but are usually more common in children between 12 and 14 years.
Metallic braces take around 12 to 36 months for treatment completion. They are the most affordable braces, making them a popular choice. You will require to visit your orthodontist once a month for tightening the wires.
Drawbacks:
Despite their strength, effectiveness and affordable price, these braces give you a metallic smile. Many teens and adults get overly self-conscious and suffer from low confidence when wearing metallic braces during orthodontic treatment.
Since metallic braces are fixed, keeping them clean is an added responsibility.
Most patients complain of cuts and nicks, making metallic braces inconvenient and uncomfortable.
It is also difficult to impose the required dietary restriction on kids during metallic braces treatment.
Verdict: Metallic braces are well-suited to all age groups, especially people with moderate to severe teeth alignment issues.
Ceramic Braces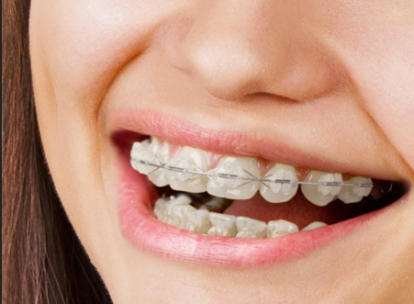 Ceramic braces were created to do away with the main drawback of metallic braces; the ugly metallic smile! These are tooth-coloured braces made from ceramic material and are less conspicuous than metallic ones.
They have the strength of metallic braces and effectively treat malocclusions in both children and adults.
Ceramic braces can be successfully used in straightening teeth in fully-developed jaws without the risk of brackets breaking or coming off.
These braces are ideal for older teenagers who are conscious about their looks and adults with active social lives and professionals as they are less noticeable. Treatment duration with ceramic braces is similar to metallic braces.
Drawbacks:
Ceramic brackets can be brittle, often breaking into pieces during treatment.
They are more aesthetic than metallic braces but are still visible from close distances.
To ensure ceramic brackets are as strong as metallic ones, they are often made bulky.
Ceramic brackets can irritate the gum line or lips.
They have a higher chance of getting stained on eating coloured foods.
They are more expensive than metallic braces.
Verdict: Ceramic braces are ideal for older teenagers and adults who wish to straighten their teeth at an affordable cost.
Clear Aligners (Invisible Braces)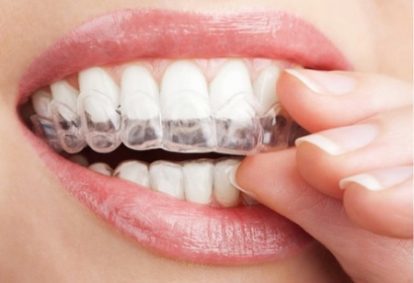 Clear aligners or invisible braces are the latest types of braces. These are transparent, removable trays made from high-grade polymers. When worn on upper and lower teeth, the trays are invisible even from short distances.
Clear aligners are ideal for correcting mild to moderate teeth alignment issues and can be worn by adults. Since these trays are customised for each patient, they are recommended in adults as their jaw growth and development is completed.
Clear aligners are removable, and so, patients need not follow dietary restrictions. They can also brush and floss normally. These aligners with superior aesthetics are the most comfortable and convenient type of braces available today. Treatment using aligners takes around 12 to 22 months to complete.
Drawbacks: There are no significant drawbacks of aligners. However, these braces are not recommended in severe malocclusion cases and in children and teens who are still undergoing growth and development of their jaws.
Verdict: Clear aligners are the ideal braces option for adults of all ages.
Key Takeaway!
Thanks to the advances in dentistry, orthodontics today has something for everyone! We can also conclude that orthodontic treatment is recommended for people of all ages– anyone with healthy teeth and gums.
Regardless of the choice of braces you make, each has its pros and cons. If you wish to straighten your teeth and feel more confident about your smile and appearance, visit your nearest Sabka Dentist clinic to meet our expert orthodontists today!
Wish to undergo clear aligner treatment? Ask for SDAlign!