Troubled by the gaps in your teeth and wish to fix them naturally? Here's what you need to know! Lucky are those who are born with a beautiful, well-aligned, aesthetic smile.
Teeth and jaw alignment make a significant difference to one's appearance and irregularities like crowding, spacing, rotations, gaps between teeth (diastema), missing teeth, or abnormally smaller or larger than the rest can affect one's appearance and smile. No matter the type of teeth alignment issue you have, it needs to be corrected. Here's how teeth gaps are closed.
How are Gaps Between Teeth Caused?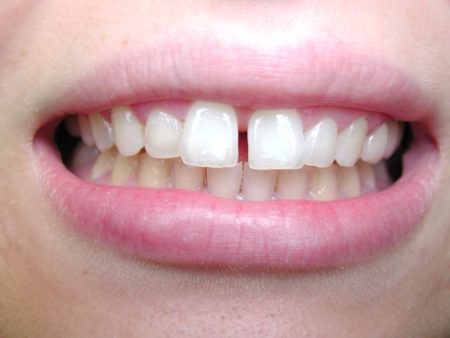 Before choosing the best option to close the gaps between teeth, the cause for those gaps must be identified. Gaps between teeth can be localized (restricted to just one or two) or generalized (when it is between all the teeth). The most common gap found is the one between the upper two front teeth, called the midline diastema.
Some common causes of gaps between teeth include:
Tooth and jaw size mismatch
Undersized or malformed teeth cause gaps with neighboring teeth.
A thick muscular frenum between the upper two front teeth is the most common cause of midline diastema.
Functional habits like thumb-sucking and tongue-thrusting
Improper swallowing reflex in children causes them to apply tongue force on the upper front teeth resulting in forwardly placed teeth with gaps between them.
Poor oral hygiene and gum health cause the teeth to loosen and move, creating gaps.
Regardless of the cause of the gaps between your teeth, they should be corrected. While most people presume teeth gaps are fixed only for aesthetic reasons, not correcting them can result in poor oral hygiene, food lodgement, tooth cavities, gum infections and ultimately, loss of teeth!
How Can Gaps Between Teeth be Filled?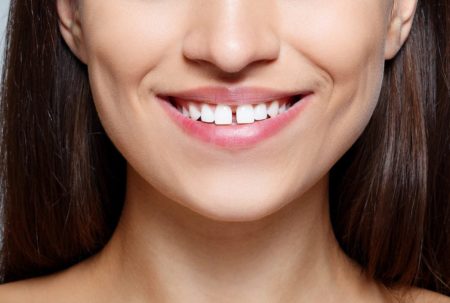 With the advances in dental treatments today,closing teeth gaps is easy. There are several options by which your dentist can close the gap between your teeth permanently. Let's take a close look at them.
Tooth-colored aesthetic fillings
The easiest and cheapest way of closing teeth gaps are aesthetic dental fillings. During this treatment, your dentist will use tooth-colored resin-based tooth filling materials to close the small gaps between your teeth. A handheld UV light device is used to harden the filling material and allow it to bond on the tooth surface.
Aesthetic tooth fillings may be used only when the gap between the teeth is less than 2 mm. The biggest drawback of these fillings is that they may require to be repeated every time they pop out or wear down with time.
Ceramic Veneers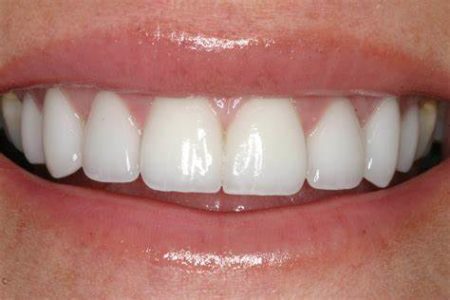 Ceramic veneers are also another quick fix for the gaps between your teeth and a more durable option. They are thin shells of porcelain fabricated to match the shape and shade of your teeth and are usually preferred to fix the gap in front teeth without braces.
Ceramic veneers are preferred over aesthetic fillings when the gap is greater than 2 mm. They help close the gaps in teeth and cover up any imperfections in them.
The ceramic veneers are bonded over your teeth using strong dental adhesive materials. When done correctly, ceramic veneers can last long, sometimes even a lifetime.
Despite the excellent quality of ceramic veneers and their success in closing gaps in teeth, they require some tooth shaping that means a reduction of the front surface of your teeth. Also, veneers need a substantial amount of enamel for adequate bonding. So, this treatment is not recommended in people with thin enamel.
Braces/Orthodontic Treatment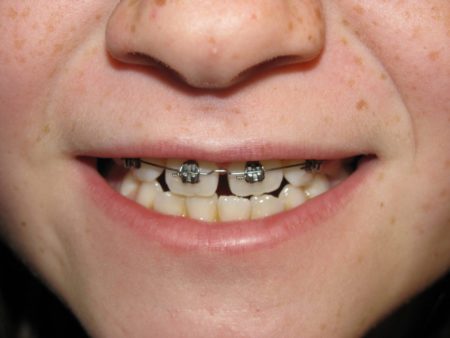 The answer to "How to reduce gaps between teeth naturally? are braces!
Braces are orthodontic treatments that close gaps between teeth and correct other teeth alignment issues naturally and permanently. They can correct various bite issues and align your irregular teeth to give you an aesthetic and beautiful smile.
Compared to composite and ceramic veneers, closing gaps with braces takes longer. However, braces close the gaps between your teeth naturally, more permanently. Braces are of several types– metallic, ceramic, self-ligating, lingual and clear aligners.
All braces work similarly with some differences in their comfort, convenience and aesthetics. If you are looking for the most aesthetic way to naturally close the gap between your teeth, clear aligners are for you!
Clear aligners, also called invisible braces, are transparent plastic trays made from a superior quality of medical-grade plastic custom-fabricated for each patient. These are removable trays but need to be worn for a minimum of 22-23 hours per day for effective teeth movement. Ask your doctor for more information about clear aligner treatment with SD Align!
Removable appliances
Though most braces, except clear aligners, are fixed in nature, orthodontics also uses removable appliances to bring about teeth alignment, close small gaps, break functional habits like tongue-thrusting and thumb-sucking.
Retainers that are given after orthodontic treatment completion are removable appliances that help hold your teeth in their final positions and prevent relapse. Some retainers also help close tiny gaps.
After evaluating your teeth, jaws, bite and facial structure, your dentist will determine the best treatment option to close the gaps between your teeth.
The Best Option to Close Teeth Gaps
After learning about the several options available for closing teeth gaps, it is natural to wonder which is the best one. Let's set this clear– the best way to reduce gaps between teeth is orthodontics. If you are concerned about wearing metallic or ceramic braces due to their poor aesthetics, ask your orthodontist about clear aligners.
At Sabka Dentist, we offer a wide range of clear aligner brands. SD Align is the country's leading aligner brand that offers superior quality, convenience and successful treatment at affordable rates!
Is Filling Teeth Gaps Expensive?
Braces or orthodontic treatment is the most natural way of closing teeth gaps. However, contrary to popular belief that these treatments are expensive, braces treatment at Sabka Dentist are affordable.
Based on how complex your case is, treatment with braces can take anything between 6 to 24 months to complete. The cost of your orthodontic treatment depends upon several factors like the type of braces you choose, their brand, the experience of your orthodontist, and the location of the clinic.
However, at Sabka Dentist, orthodontic treatment costs are uniform across all clinics.
While it may seem like composite or ceramic veneers are the quickest fix to closing gaps between teeth, they are not the most natural way to do so and are far more expensive than braces treatments.
Is It Possible to Reduce Gap Between Teeth at Home?
If you have been wondering, "How to close a gap between your teeth at home?, you must know that though there are many brands offering home treatments, they may not be the best way to get your teeth gaps closed.
Few clear aligner brands that promise orthodontic treatment from the comfort of your home where all steps of treatment– from measurement recording to delivery of customized trays. However, these treatments are not as effective as in-clinic treatments monitored by orthodontists.
At Sabka Dentist, we understand that most people refrain from undergoing orthodontic treatment as they do not wish to wear a metallic or bulky ceramic smile.
So, with Sabka Dentist's SD Align, closing the gaps between your teeth can be a secret- between you and us!
No more hiding your smile during your orthodontic treatment with SD Align!
Key Takeaway!
If you have gaps between your teeth or see them forming, visit your near
est Sabka Dentist clinic immediately. After a thorough dental and orthodontic evaluation, the best possible solution will be given to you.
If you do not wish to wear an ugly metallic or a bulky ceramic smile, speak to your orthodontist about SD Align- the most comfortable and affordable clear aligners in India today!
Visit us today!