Have you decided to opt for clear aligners to straighten your teeth? You've arrived at the right place! Clear aligners or invisible braces are new-age teeth straightening treatments clouded by many misconceptions, including their effectiveness and high costs.
In this article, we have tried to clear a few common misconceptions around clear aligners and why they are the best bet for correcting irregular teeth.
Common Misconceptions About Clear Aligners
Here are the most common misconceptions and myths surrounding clear aligners:
Clear aligners are not as successful as traditional braces
It is usual for people to doubt newer treatments, which holds for clear aligners too! Moving teeth into new positions using braces is a slow but steady process that gives permanent results naturally. However, age, oral health, type, and severity of malocclusion affect treatment duration.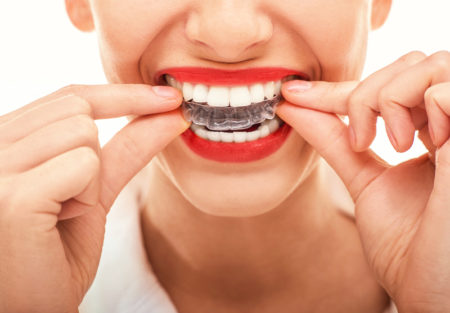 During clear aligner treatment, you are required to wear the trays on your upper and lower teeth to allow them to move

The trays apply small amounts of constant force to bring about the desired tooth movements. Clear aligners are suitable for mild to moderate malocclusion cases and for people with not-so-good oral hygiene.
Clear aligners are just as effective as traditional metal and ceramic braces despite the difference in their appearance and the type of forces they apply.
Aligners are DIY, at-home treatments
To undergo braces treatment, you will need to visit an orthodontist. Several companies and brands offer DIY, at-home clear aligner treatments today. However, you need to know that dental treatments cannot be effectively performed at home with snap-on aligners.
The success rate of clear aligners depends not just on the medical-grade material but on case selection, the severity of the malocclusion, and patient compliance.
Most aligner brands that offer DIY or at-home aligner treatments appear attractive due to their cheap costs and ease of getting the treatment done from the comfort of your home.
However, the success rates of these treatments are questionable, and most often, the malocclusion only worsens. So, it is recommended that you visit your orthodontist for your clear aligner treatment.
With Indian aligner brands like SD Align, we promise to deliver your dream smile under the watchful eyes of our experienced orthodontists at your nearest dental clinic. Always undergo dental treatment only when performed by a trained and certified dentist.
Clear Aligners are for teenagers and young adults
Think braces, and we always presume it is for teenagers or young adults. This, however, is not true! Adults who wish to flaunt a flawless smile with the latest advances in orthodontics can opt for clear aligner treatment.
If you have a people-facing work profile or get conscious when meeting colleagues and friends due to your smile, getting your teeth straightened with clear aligners is the best option for you. Many adults are embarrassed about the gaps in their teeth, which get covered by the aligners while aligning their teeth.
Clear aligners boost confidence in social as well as professional settings.
Aligners cause a lisp
Teeth positioning affects our speech clarity. People having teeth crowding or spacing are found to have poor speech. Unclear speech is a leading cause why people seek braces treatment. Since conventional braces are fixed on the front surface of teeth, there are no speech changes noticed.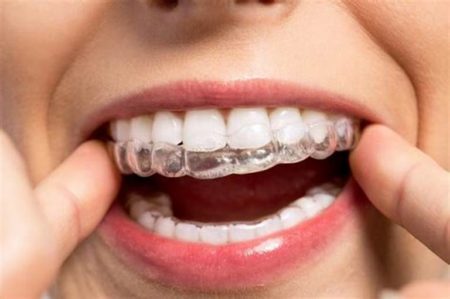 However, since clear aligners are trays that envelop your teeth on all sides, you may develop a mild lisp in the initial days of your treatment.
As soon as your tongue adjusts to the trays, your lisp will disappear in just a few days. When your teeth begin aligning, your tongue continues to adapt to the new teeth' positions. In many people, teeth alignment improves speech and makes them more comfortable in social settings.
Results with clear aligners are not as promised
It is a common misconception that clear aligners are not as efficient in moving teeth as conventional braces. This is, however, not true. You may have come across many people who tell you about clear aligner treatment and how the trays didn't move their teeth as promised at the beginning.
You must know that the success of clear aligner treatment depends significantly on the individual's compliance. If you do not wear your trays for the required number of hours and days as prescribed by your orthodontist, your teeth will not move. In fact, failure to wear trays can cause your teeth to move back into their original positions, resulting in unsuccessful treatment.
Key Takeaway!
Clear aligners may sound too good to be true but believe us, they are worth it! Apart from superior aesthetics, clear aligners offer several oral health benefits and boost your self-confidence. If you are looking for the best way to straighten your teeth, reach out to us to consult with our top orthodontists and ask about SD Align– India's leading clear aligner brand!
Book your appointment today!