Clear aligners or invisible braces are extremely popular today for their superior aesthetics. These aligners are transparent trays made from medical-grade plastic and customized for each patient. Since clear aligners are invisible when worn, even from close distances, they are also called invisible braces.
Many patients visiting our Sabka Dentist clinics have queries like "What can I expect before and after clear aligner treatment?". So, we've got you an informative article to help you understand the pre-and post-treatment scenario with clear aligners.
Benefits of SD Align Clear Aligners
Before understanding the pre-treatment and post-treatment, here are some benefits of SD Align clear aligners:
Clear aligners are wire and bracket-free braces options that help move your teeth.
Since aligners are made from medical-grade, smooth biocompatible polymers, they are very comfortable to wear. SD Align aligners get a manual finish that is comfortable for your gums.
SD clear aligners are transparent and so are invisible when worn. Feel free to flaunt your smile during your treatment with clear aligners.
Since clear aligners are removable, brushing, flossing, and maintaining oral hygiene is easy and convenient compared to traditional braces.
Clear aligners are tailor-made and offer a snap-fit on your teeth, ensuring precise treatments.
As clear aligners are removable, there are no food restrictions during your treatment, as seen with traditional braces.,Unlike common perception, the cost of clear aligners is comparable to that of conventional metal and ceramic braces.
SD Align Invisible Braces: What to Expect Pre and After Treatment
If you have decided to opt for clear aligners to straighten your teeth, it is important to know what to expect before, during, and after your treatment.
Pre-Treatment
Crooked and crowded teeth require to be straightened. Before beginning your treatment with SD Align, here's what happens:
Consultation and evaluation
Before beginning any treatment, your orthodontist will take a complete medical and dental history and perform a thorough clinical evaluation to check for teeth alignment, jawlines, facial structure,e, and bite.
Your orthodontist will also ask you to get a few x-rays that help them assess jaw alignment and facial structure. This also helps your orthodontist suggest the most suitable braces for you.
Recording Taking
After the diagnosis is completed, your orthodontist will make records like pre-treatment impressions of your upper and lower teeth and clinical intraoral and extraoral photographs of your facial profile, smile, and teeth. Next, a 3D scan of your teeth is taken using an advanced 3D scanning device.
Smile Simulation
The scans and measurements taken are, and safely stored for record purposes. The 3D scan is uploaded on software to be sent to the treatment planning team in our office in Mumbai. Our experienced orthodontists use the latest technology and software to devise a treatment plan.
The software allows you to visualize and labeledfac your treatment phase-wisefactactt, you will also be able to appreciate the final result before beginning your treatment. This step is called smile simulation.
If you have any queries or concerns regarding your treatment plan, feel free to ask your orthodontist about the same. Once you and your orthodontist approve of the treatment plan, the lab is instructed to begin fabricating your aligners.
Delivery of trays
The SD Align lab fabricates your aligners in the most sophisticated facility equipped with the latest machines. Counting from the day of your 3D scan, you will receive your first set of trays within ten days. The first pair of trays are called zero-degree aligners and allow you to get used to the trays before the actual treatment begins.
Post-Treatment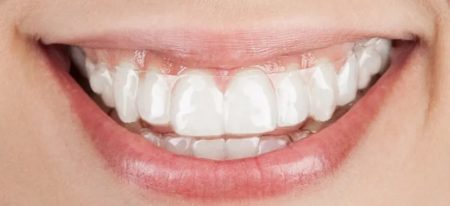 A beautiful, well-aligned smile
The goal of clear aligner treatment is getting a beautiful, well-aligned smile that you are confident to flaunt. This is precisely what SD Align offers each patient once their treatment is completed. A well-aligned dentition allows you to brush and floss your teeth easily and effortlessly.
Measurement for retainer and delivery
After treatment completion, the immediate next step is making impressions for the fabrication of retainers.
Retainers are similar to aligners, but their primary duty is to hold teeth in their newly designated positions and prevent them from returning to their old places.
The duration of wearing retainers varies from patient to patient, and your orthodontist will instruct you about them. In some people, orthodontists recommend fixed retainers, which is a metal wire fixed on the tongue surface of teeth. This retainer remains invisible.
Routine follow-up appointments
Though your clear aligner treatment with SD Align may be complete, you must visit your orthodontist in one month, three months, and six months within the first year. Visit your orthodontist once a year from year two onwards to allow them to monitor your teeth.
Getting clear aligners is, by far, the most convenient orthodontic treatment option available. If you are excited about getting your teeth straightened with clear aligners, contact us here or drop in at your nearest Sabka Dentist clinic to meet our expert orthodontists.