If you have well-aligned teeth and a stunning smile, you are indeed one of the few blessed ones. For all others, dentistry has got your back! Despite irregularly aligned teeth and poor smile aesthetics, many people refuse to undergo braces treatment due to the ugly metal and bulky ceramic braces.
If you have been waiting for aesthetic braces to give you a dream smile, it is now possible with SD Align clear aligners- the most comfortable braces to date!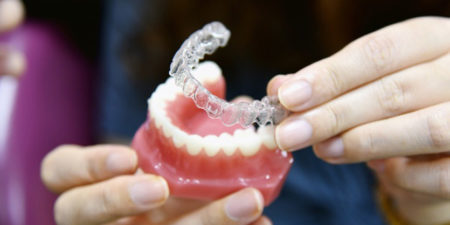 Clear aligners, or invisible braces, earned their name due to their transparency. When worn on teeth, clear aligners are invisible even from close distances. These aligners are made from medical-grade biocompatible polymer and are far more comfortable than traditional metal and ceramic braces.
Why Should You Choose Invisible Braces by Expert Orthodontists?
No one wants to wear an unaesthetic, uncomfortable and inconvenient metallic or ceramic smile during their braces treatment. However, if you need to undergo orthodontic treatment and are looking for the best braces to opt for, invisible braces are the ideal choice.
Here are the top reasons why you must choose invisible braces by expert orthodontists:
Transparent and most aesthetic
The most striking feature of clear aligners is that they are clear, transparent and nearly invisible when worn on the teeth. While metal and ceramic braces are conspicuous and make one extremely uncomfortable and conscious, invisible braces are discrete.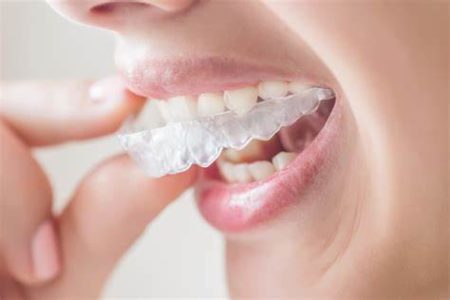 Removable
Apart from poor aesthetics, another drawback of traditional metal and ceramic braces is that they are fixed on your teeth throughout your treatment. On the other hand, clear invisible braces are removable, making them a crowd favourite. It is easy to wear and remove clear aligners when required.
Enable easy oral hygiene maintenance
With fixed braces, brushing and flossing become difficult and maintaining good oral hygiene is challenging. The brackets, wires and elastics attract more food debris and require extra effort to keep them clean.
Since clear aligners are removable trays that must be removed when eating, drinking, brushing and flossing, keeping your teeth and gums is easy. So, opting for clear aligners for your orthodontic treatment prevents stains and discolouration of teeth and reduces the risk of tooth decay and gum infections, all of which are common with traditional metal and ceramic braces.
Prevent tooth grinding
During orthodontic treatment, your teeth are constantly in a state of flux and movement. Since they are being moved to new positions, your bite may be unbalanced at different times during your treatment, which may cause tooth grinding. With clear aligners, tooth grinding can be prevented as the trays cover the surface of your upper and lower teeth.
Comfortable to your oral tissues
Among the disadvantages of braces is that they are bulky and sharp, which tend to irritate the inner surface of your lips, cheeks, tongue and gums. It is common for people to develop oral ulcers and temporary speech problems during braces treatment. However, since invisible braces are comfortable trays with smooth margins, they do not irritate oral tissues.
Require fewer dental appointments
With conventional metal and ceramic braces, you must visit your orthodontist once every four weeks to tighten the wires. With invisible braces, you require fewer dental appointments. You can visit your orthodontist once every 4-6 weeks, and the appointments are of short duration during which they will monitor your progress.
Enable visualisation of the final result
One of the few things that come to mind when we talk about braces treatment is "How will my teeth look after treatment completion?" With traditional metal and ceramic braces, your doctor will only be able to explain using pen and paper.
However, in the case of clear aligners, your orthodontist can use advanced software to show you your entire treatment, including the final result. Amazing, isn't it?
The SD Align Advantage: Why Choose SD Align Clear Aligners?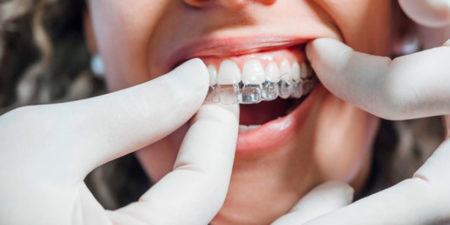 While clear aligners are popular, the success rate of treatment using them depends upon several factors, the primary one being the brand of aligners you choose. SD Align is India's leading brand of invisible braces, making it a popular choice for orthodontists and their patients.
At SD Align, expert orthodontists are the backbone of all treatments– from proper case selection to treatment planning and monitoring; we have the most experienced and skilled orthodontists in the country.
Still wondering why you should choose SD Align Clear Aligners? Here are 9 reasons why!
A dedicated case relationship manager who assists and supports you throughout your treatment with SD Align
Efficient and safe manufacturing practices
Best quality PETG aligners
Superior aesthetics to other brands
Convenient and hassle-free consultation and treatment procedure
Quick and flexible tray delivery
Easy replacement of lost or damaged trays
No hidden costs
Most comfortable trays with manually-polished smooth edges
Stainless and clear trays that remain invisible throughout your treatment
Easy and convenient online case management
Ability to visualize treatment before beginning
Key Takeaway!
SD Align is a translation of expert orthodontist care in India, making them the most popular and trusted clear aligner brand today. With hundreds of partnered clinics and orthodontists across India, SD Align is now available in most tier 1, 2, and 3 cities and towns. The journey to spread beautiful, electrifying smiles with clear aligners now has an SD Align advantage.
Need braces? Contact us to know more about SD Align clear aligners. Wish to meet our orthodontists for a consultation? Drop-in at your nearest Sabka Dentist clinic today!