Braces are the best choice if having perfectly-aligned teeth and a beautiful smile has been a coveted dream for you. However, most people who need braces refuse to get them because of the ugly metallic smile they give. For all those who wish to straighten their teeth in the most secretive way possible, clear aligners are the ideal choice!
Clear aligners are also called invisible braces because of their transparent and invisible nature. When these transparent trays are worn, they apply a small yet constant force to move your teeth into alignment. Clear aligners are made from medical-grade, biocompatible resin-based material, making them more comfortable than traditional metal and ceramic braces.
Why Should You Choose Invisible Braces?
If you have seen or heard about invisible braces, it is natural to wonder about how they work. When you think of braces, one of the first things that come to mind is, "Who wants an inconvenient smile?" To do away with the discomfort and poor aesthetics of fixed braces, invisible braces are a great choice.
Still, wondering why you should choose invisible braces to straighten your teeth? We've got seven reasons to help you decide!
Clear and invisible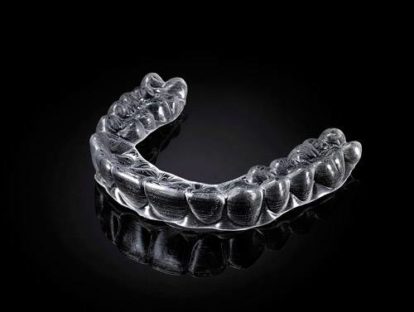 The primary reason invisible braces are popular is the transparent and clear appearance that makes them nearly invisible to the naked eye, even from close distances. Compared to traditional metal and ceramic braces, invisible braces are aesthetic and discrete throughout your orthodontic treatment.
Removable
Conventional braces are fixed on teeth using dental glue and can be removed only by your orthodontist. However, invisible braces trays are removable, and you can easily remove them while eating, drinking, brushing, and flossing.
Easy to brush and floss
Keeping your teeth and gums healthy during orthodontic treatment assures faster movements and better results. With fixed braces, brushing and flossing become challenging, and these braces also tend to accumulate more plaque and dirt.
Though your dentist will prescribe proxy brush and orthodontic mouthwash, brushing and flossing your teeth with fixed braces is difficult.
On the other hand, since invisible braces are removable, they enable easy cleaning and oral hygiene maintenance, keeping your teeth and gums clean and healthy. Problems of yellow or stained teeth common with conventional fixed braces are not seen with invisible braces.
Prevent tooth grinding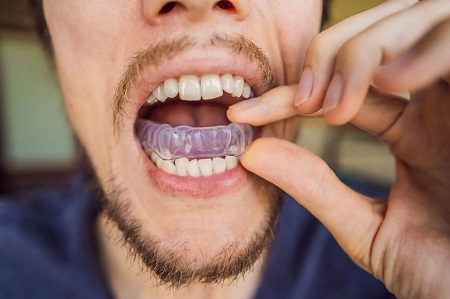 As your teeth move during orthodontic treatment, your bite may be unbalanced at various times. This tends to cause tooth grinding in some people. With invisible braces, however, the trays prevent tooth grinding and protect your teeth' surface.
Comfortable for your soft tissues
One of the significant drawbacks of fixed metal and ceramic braces is that they have sharp edges and bulky brackets that often cut the inner surface of the lips, cheeks, tongue and gums. These knicks and cuts can result in uncomfortable or painful ulcers or temporary speech problems.
Opt for the oh-so-comfortable invisible braces tray if you do not wish to have these problems during your orthodontic treatment. SD Align's clear aligner trays are smooth and have manually finished edges to provide unparalleled comfort during your orthodontic treatment.
Require fewer dental appointments
You must visit your orthodontist monthly to get your wires tightened or changed if you have fixed braces. However, with clear invisible braces, you can see your orthodontist once every four to six weeks, which means fewer dental appointments.
Allow you to visualize the result
When you first visit an orthodontist and they explain your treatment plan, most of us wish we could see the final result, isn't it? This is now possible with clear invisible braces! With traditional braces, your orthodontist can only verbally tell you how your teeth are likely to move and look at the end of treatment.
However, with invisible braces, your orthodontist uses sophisticated software that enables treatment planning and shows how your teeth will move at each stage and the final result. Isn't that exciting?
The SD Align Advantage: Expert Orthodontist Care
The brand of Clear Dental Aligners makes a considerable difference to your orthodontic treatment.  SD Align is India's leading brand of invisible braces and a favorite of orthodontists and their patients. At SD Align, expert and skilled orthodontists from across the country form the backbone of case selection, treatment planning, and monitoring.
With SD Align, you get only the best!
Besides orthodontist-led expert care, here's why SD Align invisible braces are the best choice for straightening your teeth:
Superior quality materials, manufacturing, and quality control
Hassle-free orthodontic consultation and treatment
Dedicated customer relationship manager who is available for you throughout your treatment
Flexible payments
No hidden costs
Easy and quick replacement of damaged and lost trays
Convenient management of cases online
Mid-treatment review of case progress
End-result visualization before beginning treatment
Conclusion
SD Align invisible braces are India's most popular clear aligner brand today, with hundreds of happy patients who have had successful outcomes. SD Align is now available across India- in all tier 1, tier,2, and tier 3 cities. Embark on the journey to get your dream smile with an SD Align advantage.
If you are looking to get SD Align aligners, reach out to us here! Want to meet our expert orthodontists? Drop-in, in at your nearest Sabka Dentist clinic today!